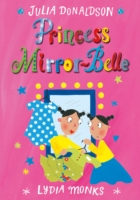 Princess Mirror-Belle
Author:
Julia Donaldson
Illustrator:
Lydia Monks
Format:
pb
ISBN:
9781447285625
Ellen gets a big shock when her double appears out of the bathroom mirror. But Mirror-Belle is a double with a difference! She is a princess, and a very mischievous one at that. Join magically mischievous Mirror-Belle as she comes popping out of Ellen's mirror to sweep her into a variety of hilarious escapades – from battling with Dragon Pox to exploring a department store and helping out with the local pantomine. You can always guarantee that wherever Mirror-Belle goes, trouble will follow!
3 stories in one book, perfect for readers confident enough for a chapter book, reading ages 5-8. Lively black an white illustrations by Lydia Monks on every page.
In stock
Most of our copies of Julia's books are signed, but if you want to be 100 % sure that the title you are ordering is signed, do get in touch by email or phone (01903 812062) to check, before placing your secure online order. On occasions where a book is unsigned, we will include a free signed bookplate, which can be attached to the book later.