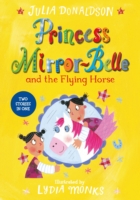 Princess Mirror-Belle and the Flying Horse
Author:
Julia Donaldson
Illustrator:
Lydia Monks
Format:
pb
ISBN:
9781447285656
Another adventure for Ellen and her troublesome Princess reflection!
Mirror-Belle appears at the hospital where Ellen is recovering from a broken arm, and causes chaos on the ward.
2 Stories in one book, with illustrations by Lydia Monks. For independent readers moving into chapter books.
In stock
Most of our copies of Julia's books are signed, but if you want to be 100 % sure that the title you are ordering is signed, do get in touch by email or phone (01903 812062) to check, before placing your secure online order. On occasions where a book is unsigned, we will include a free signed bookplate, which can be attached to the book later.