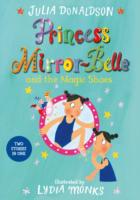 Princess Mirror-Belle and the Magic Shoes
Author:
Julia Donaldson
Illustrator:
Lydia Monks
Format:
pb
ISBN:
9781447285632
Two short stories in one book. Ellen's double, Princess Mirror-Belle appears at the most unexpected times! Whether she's telling Ellen tall stories about her magical shoes or a golden goose, there's never a dull moment when Mirror-Belle's around.
For independent readers, also fine as a read aloud story for 5-7 year olds.
In stock
Most of our copies of Julia's books are signed, but if you want to be 100 % sure that the title you are ordering is signed, do get in touch by email or phone (01903 812062) to check, before placing your secure online order. On occasions where a book is unsigned, we will include a free signed bookplate, which can be attached to the book later.