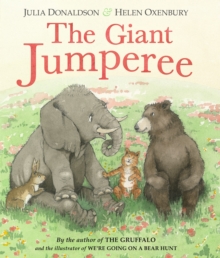 Giant Jumperee – hardback
Author:
Julia Donaldson
Illustrator:
Helen Oxenbury
Format:
hb
ISBN:
9780141363820
Julia Donaldson has adapted 'The Giant Jumperee', one of her short plays for children, into a wonderful picture book, beautifully brought to life by award-winning illustrator Helen Oxenbury. What a combination!
Rabbit was hopping home one day when he heard a loud voice coming from inside his burrow. "I'M THE GIANT JUMPEREE AND I'M SCARY AS CAN BE!"
When Rabbit's friends Cat, Bear and Elephant come to help they are each scared away in turn by the mysterious voice. He can squash you like a flea… He will sting you like a bee… And he's taller than a tree! But who is the Giant Jumperee?
Amusing animal tale with a SURPRISE ending, perfect for under 7's.
Most of our copies of Julia's books are signed, but if you want to be 100 % sure that the title you are ordering is signed, do get in touch by email or phone (01903 812062) to check, before placing your secure online order. On occasions where a book is unsigned, we will include a free signed bookplate, which can be attached to the book later.