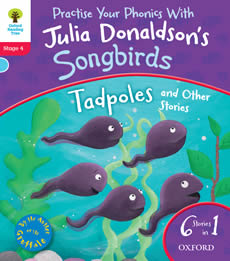 Tadpoles and Other Stories. Stage 4.
Author:
Julia Donaldson
Format:
pb
ISBN:
9780192793010
This Level 4 Songbirds collection contains 6 exciting phonics stories in one, with built-in progression to build reading confidence and success. THe stories in this collection are: Queen Anneena's Feast, Spike Says, The Wrong Kind of Knight, Moan, Moan, Moan, The Snake and the Drake, and Tadpoles. The Songbirds series offers a clear phonics development with gradual progression and lots of practice to help children gain reading confidence.
In stock
Most of our copies of Julia's books are signed, but if you want to be 100 % sure that the title you are ordering is signed, do get in touch by email or phone (01903 812062) to check, before placing your secure online order. On occasions where a book is unsigned, we will include a free signed bookplate, which can be attached to the book later.