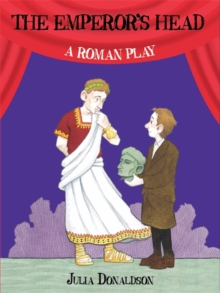 The Emperor's Head – A Roman Play
Author:
Julia Donaldson
Format:
pb
ISBN:
9780750290623
Arthur Godbold discovers a bronze head of the Roman Emperor Claudius. As he tries to figure out how the head ended up in a Suffolk river, the dramatic story of the Roman invasion of Britain unfolds in front of his very own eyes. Emperor Claudius, British Queen Boudicca, ordinary Roman soldiers and British slave girls are all involved in this exciting play, providing a variety of opportunities for KS2 classes to explore both historical and literacy topics in an involving and creative setting.
A fantastic resource for studying the Romans in Britain – perfect for the new National Curriculum.
In stock
Most of our copies of Julia's books are signed, but if you want to be 100 % sure that the title you are ordering is signed, do get in touch by email or phone (01903 812062) to check, before placing your secure online order. On occasions where a book is unsigned, we will include a free signed bookplate, which can be attached to the book later.