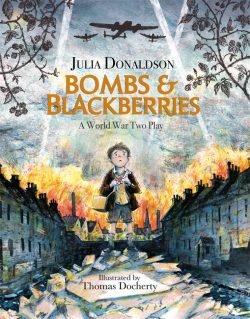 Bombs and Blackberries – A Play
Author:
Julia Donaldson
Illustrator:
Thomas Docherty
Format:
pb
ISBN:
9781444938807
A short illustrated play set in World War Two, perfect for class reading as well as performance, written by Julia Donaldson, author of the modern classic The Gruffalo. Perfect for the 75th Anniversary of D-Day in 2019. World War Two has been declared and the Chiver's children are sent to the safety of the countryside.
They are delighted to be brought back home when it looks like the Germans aren't going to invade after all. But the air-raid siren goes off and this time it's frighteningly real. This dramatic and touching play brings Manchester during the Second World War and its people to life, and provides a variety of opportunities for school classes to explore both historical and literacy topics in an involving and creative setting.
Also includes helpful tips on staging and costume. 'This touching play brings to life the Second World War in a very accessible way for junior children' – Books for Keeps
Most of our copies of Julia's books are signed, but if you want to be 100 % sure that the title you are ordering is signed, do get in touch by email or phone (01903 812062) to check, before placing your secure online order. On occasions where a book is unsigned, we will include a free signed bookplate, which can be attached to the book later.