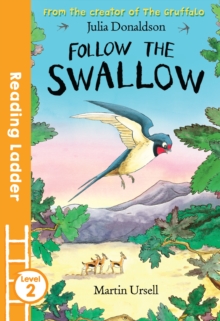 Follow the Swallow
Author:
Julia Donaldson
Illustrator:
Martin Ursell
Format:
pb
ISBN:
9781405282000
When Apollo the swallow flies to Africa, Chack the blackbird wants to send him a message. But Africa is far away. Can a jumpy dolphin, a grumpy camel, a greedy crocodile and a playful monkey help to deliver the message?
Blue bananas are illustrated books for NC Level 2 readers learning to tackle longer prose for the first time with the support of extensive illustrations and speech bubbles. They are carefully designed with education in mind, supporting children's understanding of vocabulary and punctuation.
Most of our copies of Julia's books are signed, but if you want to be 100 % sure that the title you are ordering is signed, do get in touch by email or phone (01903 812062) to check, before placing your secure online order. On occasions where a book is unsigned, we will include a free signed bookplate, which can be attached to the book later.