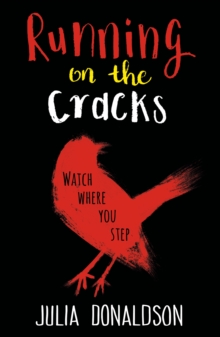 Running on the Cracks
Author:
Julia Donaldson
Format:
pb
ISBN:
9781405222334
Julia's first novel for teenagers. Leo's running from her past. Finlay's running into trouble. Together they stumble into a crazy new world of secrets, lies and Chinese food. But someone is on Leo's trail. Winner of the Nasen Inclusive Children's Book Award 2009. (This award is for a book that provides positive images of people with special educational needs and disability, including mental health issues.) Shortlisted for the The Independent Booksellers award. Suitable for age 12 upwards. Teenage content.
Most of our copies of Julia's books are signed, but if you want to be 100 % sure that the title you are ordering is signed, do get in touch by email or phone (01903 812062) to check, before placing your secure online order. On occasions where a book is unsigned, we will include a free signed bookplate, which can be attached to the book later.