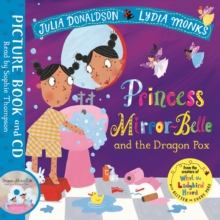 Princess Mirror-Belle and the Dragon Pox – Book and CD
Author:
Julia Donaldson
Illustrator:
Lydia Monks
Format:
cd and pb
ISBN:
9781509864058
Imagine Ellen's surprise when Princess Mirror-Belle climbs out of the bathroom mirror! She comes from a world where bubble fish swim in the bath, elves sleep in slippers, and brave knights fight fire-breathing dragons. And while Ellen has chicken pox, Mirror-Belle has dragon pox – but she knows just the cure.
A fun story about an unexpected friendship, paired with bright and distinctive illustrations and glitter on every page, this story is perfect for reading together. This paperback and CD edition features a lively reading of the story by Sophie Thompson.
Most of our copies of Julia's books are signed, but if you want to be 100 % sure that the title you are ordering is signed, do get in touch by email or phone (01903 812062) to check, before placing your secure online order. On occasions where a book is unsigned, we will include a free signed bookplate, which can be attached to the book later.