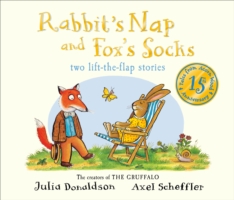 Rabbit's Nap and Fox's Socks Two lift-the-flap stories
Author:
Julia Donaldson
Illustrator:
Axel Scheffler
Format:
pb
ISBN:
9781447273455
With sturdy flaps on every spread and rhyming stories that are a joy to read aloud, the Tales From Acorn Wood have been delighting both parents and toddlers for fifteen years. In Tales From Acorn Wood: Fox's Socks and Rabbit's Nap, two of the popular lift-the-flap stories are together in paperback for the first time, with a beautiful foiled cover. Rabbit is trying to get to sleep, but everyone is being so noisy. Lift the flaps and find out who is keeping Rabbit awake. Then join Fox in a hunt for his missing socks. Are they in the kitchen or under the stairs? Are they inside the clock or hidden in a chest?
Most of our copies of Julia's books are signed, but if you want to be 100 % sure that the title you are ordering is signed, do get in touch by email or phone (01903 812062) to check, before placing your secure online order. On occasions where a book is unsigned, we will include a free signed bookplate, which can be attached to the book later.