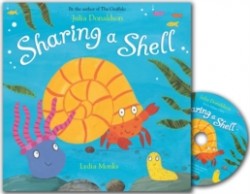 Sharing a Shell book & CD
Author:
Julia Donaldson
Illustrator:
Lydia Monks
Format:
pb & CD
ISBN:
9781405092364
The tiny hermit crab loves his new shell. He doesn't want to share it — not with a blobby purple anenone and a tickly bristleworm. But life in the rock pool proves tougher than Crab thinks, and soon he finds he needs his new housemates in this rollicking story of sea, shells and friendship.
Paperback with story CD read by Julian Clary.
Most of our copies of Julia's books are signed, but if you want to be 100 % sure that the title you are ordering is signed, do get in touch by email or phone (01903 812062) to check, before placing your secure online order. On occasions where a book is unsigned, we will include a free signed bookplate, which can be attached to the book later.