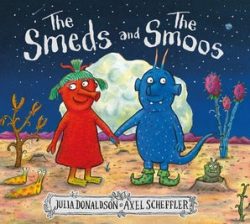 Smeds and the Smoos
Author:
Julia Donaldson
Illustrator:
Axel Scheffler
Format:
hb
ISBN:
9781407188898
An out of this world intergalactic alien love story from Julia Donaldson and Axel Scheffler!
In a distant galaxy, far far away…The Smeds (who are red) never mix with the Smoos (who are blue), so when a young Smed and Smoo fall in love, their families strongly disapprove. The star-struck lovers elope on a cosmic rocket-trip around the universe, meeting all manner of curious extra-terrestrials. Eventually, a bouncing purple baby brings the two tribes together, and love and unity prevail!
This wonderful picture book is a joyous celebration of inclusivity and diversity, with Julia Donaldson's humorous rhymes exuberantly brought to life by Axel's colourfully hilarious illustrations. A real treat for bedtimes!
Most of our copies of Julia's books are signed, but if you want to be 100 % sure that the title you are ordering is signed, do get in touch by email or phone (01903 812062) to check, before placing your secure online order. On occasions where a book is unsigned, we will include a free signed bookplate, which can be attached to the book later.