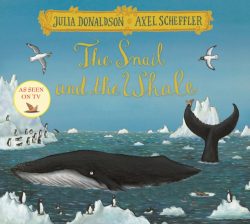 Snail and the Whale – Festive limited edition
Author:
Julia Donaldson
Illustrator:
Axel Scheffler
Format:
pb
ISBN:
9781529017205
This is the tale of a tiny snail, and a great big grey-blue humpback whale .
When one little snail longs to see the big wide world, she hitches a lift on the tail of an enormous whale. Together, they set sail on an amazing journey, past icebergs and volcanoes, sharks and penguins, and the little snail feels so small in the vastness of the world. But when disaster strikes and the whale is beached in a bay, it's up to the tiny snail to save the day!
This edition features the original story with a new, festive, wintry cover design, released to celebrate the upcoming animated feature movie, to be screened on BBC One this Christmas, starring Sally Hawkins, Rob Brydon, Cariad Lloyd and Dame Diana Rigg.
Most of our copies of Julia's books are signed, but if you want to be 100 % sure that the title you are ordering is signed, do get in touch by email or phone (01903 812062) to check, before placing your secure online order. On occasions where a book is unsigned, we will include a free signed bookplate, which can be attached to the book later.