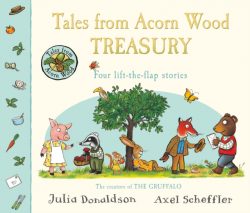 Tales from Acorn Wood Treasury
Author:
Julia Donaldson
Illustrator:
Axel Scheffler
Format:
hb
ISBN:
9781509894772
A new, gift hardback edition containing all four of the well-loved Acorn Wood stories; Fox's Socks, Hide and Seek Pig, Postman Bear, and Rabbit's Nap.
These charming, simple rhyming stories about Fox, Bear, Pig, Rabbit and their woodland friends feature Axel Scheffler's delightful illustrations, have fun flaps to lift on every page and are printed on extra-thick, durable paper. Perfect in every way for younger Julia Donaldson fans of under 4 years!
Most of our copies of Julia's books are signed, but if you want to be 100 % sure that the title you are ordering is signed, do get in touch by email or phone (01903 812062) to check, before placing your secure online order. On occasions where a book is unsigned, we will include a free signed bookplate, which can be attached to the book later.