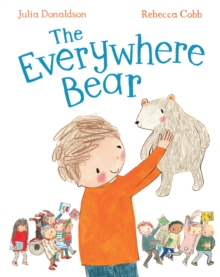 Everywhere Bear – hardback
Author:
Julia Donaldson
Illustrator:
Rebecca Cobb
Format:
hb
ISBN:
9781447280736
Following the success of 'Paper Dolls', Julia once again teams up with illustrator Rebecca Cobb for this wonderful rhyming story about a class bear.
The Everywhere Bear has a wonderful time with the children in Class One, but one day he gets more than he bargained for when he falls unnoticed from a backpack and embarks on his own big adventure! He's washed down a drain and whooshed out to sea, rescued by a fishing boat, loaded onto a lorry, carried off by a seagull …how will he ever make it back to Class One?
Absolutely charming in every way!
Most of our copies of Julia's books are signed, but if you want to be 100 % sure that the title you are ordering is signed, do get in touch by email or phone (01903 812062) to check, before placing your secure online order. On occasions where a book is unsigned, we will include a free signed bookplate, which can be attached to the book later.