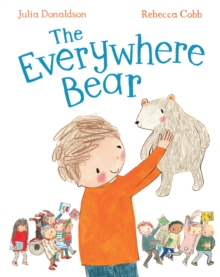 The Everywhere Bear
Author:
Julia Donaldson
Illustrator:
Rebecca Cobb
Format:
hb
ISBN:
9781447280736
Following the success of 'Paper Dolls', Julia once again teams up with illustrator Rebecca Cobb for this wonderful new rhyming story about a class bear.
The Everywhere Bear has a wonderful time with the children in Class One, but one day he gets more than he bargained for when he falls unnoticed from a backpack and embarks on his own big adventure! He's washed down a drain and whooshed out to sea, rescued by a fishing boat, loaded onto a lorry, carried off by a seagull …how will he ever make it back to Class One?
Absolutely charming in every way!
To be published in hardback on 9th February 2017. We will take pre-orders from January 2017.
Most of our copies of Julia's books are signed, but if you want to be 100 % sure that the title you are ordering is signed, do get in touch by email or phone (01903 812062) to check, before placing your secure online order. On occasions where a book is unsigned, we will include a free signed bookplate, which can be attached to the book later.