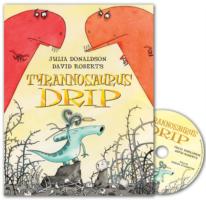 Tyrannosaurus Drip book & CD
Author:
Julia Donaldson
Illustrator:
David Roberts
Format:
pb & CD
ISBN:
9780230704145
Everyone knows that tyrannosauruses are big and scary, so when a placid duckbill dinosaur's egg ends up in the wrong nest confusion is sure to ensue! When the baby dinosaur hatches out, he's so out of place that his grisly big sisters call him Tyrannosaurus Drip. Poor little Drip: all he wants is a quiet life munching on water weed…
Paperback with story CD read by Imelda Staunton.
Most of our copies of Julia's books are signed, but if you want to be 100 % sure that the title you are ordering is signed, do get in touch by email or phone (01903 812062) to check, before placing your secure online order. On occasions where a book is unsigned, we will include a free signed bookplate, which can be attached to the book later.