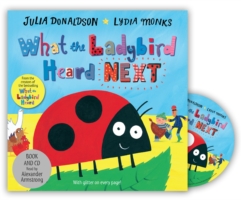 What the Ladybird Heard Next Book & CD
Author:
Julia Donaldson
Illustrator:
Lydia Monks
Format:
cd and pb
ISBN:
9781509808816
Paperback version of Julia and Lydia's wonderful follow-up to What the Ladybird Heard, with accompanying CD read by Alexander Armstrong.
Most of our copies of Julia's books are signed, but if you want to be 100 % sure that the title you are ordering is signed, do get in touch by email or phone (01903 812062) to check, before placing your secure online order. On occasions where a book is unsigned, we will include a free signed bookplate, which can be attached to the book later.