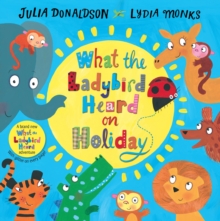 What the Ladybird Heard on Holiday
Author:
Julia Donaldson
Illustrator:
Lydia Monks
Format:
hb
ISBN:
9781509837328
Those two bad men, Lanky Len and Hefty Hugh, are back! They may be in the city instead of the farm, but they haven't changed their thieving ways. In fact, they've got even more ambitious. They're planning to steal a monkey from the zoo and use it to pinch the Queen's crown…..It's a pity for them that a certain crime-busting ladybird is holidaying in the very same city …and she's got a good idea that will ensure the dastardly pair won't get away with it!
With a whole host of noisy new zoo-animal characters to meet and even a cameo from the Queen, What the Ladybird Heard on Holiday is a sure fire hit!
Most of our copies of Julia's books are signed, but if you want to be 100 % sure that the title you are ordering is signed, do get in touch by email or phone (01903 812062) to check, before placing your secure online order. On occasions where a book is unsigned, we will include a free signed bookplate, which can be attached to the book later.