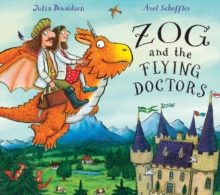 Zog and the Flying Doctors – hardback
Author:
Julia Donaldson
Illustrator:
Axel Scheffler
Format:
hb
ISBN:
9781407164953
Hurrah! At last – we find out what happened when Princess Pearl and Sir Gadabout became flying doctors! This is the fabulously original sequel to the bestselling ZOG. Meet the Flying Doctors: Princess Pearl, Sir Gadabout and, of course, their trusty 'air ambulance', Zog the dragon, as they fly around the country, tending to a sunburnt mermaid, a distressed unicorn, and even a sneezy lion.
Most of our copies of Julia's books are signed, but if you want to be 100 % sure that the title you are ordering is signed, do get in touch by email or phone (01903 812062) to check, before placing your secure online order. On occasions where a book is unsigned, we will include a free signed bookplate, which can be attached to the book later.