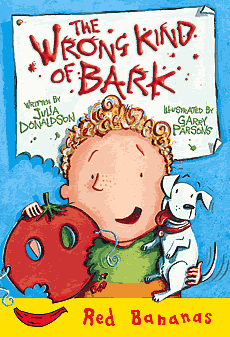 The Wrong Kind of Bark
Illustrator:
Garry Parsons
Format:
pb
ISBN:
9781405282376
This is a lovely, funny chapter book about a little boy and his puppy by Julia Donaldson, author of The Gruffalo, for Egmont's Red Banana series. Finlay is a real dreamer, and he's always getting things wrong. But when he brings his puppy into class it looks like he might have done the right thing after all. Red bananas are chapter books for newly fluent readers, suitable for NC Level 3 readers. They are carefully designed with education in mind, supporting children's understanding of how to read longer books. Red bananas introduce similes and wordplay to encourage an understanding of more literary concepts.
Most of our copies of Julia's books are signed, but if you want to be 100 % sure that the title you are ordering is signed, do get in touch by email or phone (01903 812062) to check, before placing your secure online order. On occasions where a book is unsigned, we will include a free signed bookplate, which can be attached to the book later.