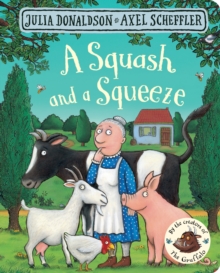 Squash and A Squeeze Board Book
Author:
Julia Donaldson
Illustrator:
Axel Scheffler
Format:
board book
ISBN:
9781509830381
A little old lady lives all by herself but she's not happy – her house is just too small, even for one. Whatever can she do? The wise old man knows: bring in a flappy, scratchy, greedy, noisy crowd of farmyard animals. When she pushes them all out again, she'll be amazed at how big her house feels!
This sturdy board book format is perfect for younger readers. It features the classic story with a stunning redesigned cover and beautiful finish.
Most of our copies of Julia's books are signed, but if you want to be 100 % sure that the title you are ordering is signed, do get in touch by email or phone (01903 812062) to check, before placing your secure online order. On occasions where a book is unsigned, we will include a free signed bookplate, which can be attached to the book later.