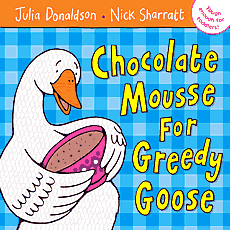 Chocolate Mousse for Greedy Goose – paperback
Author:
Julia Donaldson
Illustrator:
Nick Sharratt
Format:
pb
ISBN:
9781405021906
"Chocolate mousse!", says greedy Goose. "Don't just grab it," says angry Rabbit. Good manners aren't on the menu at this meal – Duck won't eat his carrots, Moth's eating the cloth, and Sheep would rather sleep than wash the dishes! Wonderful simple rhymes accompanied by Nick Sharratt's trademark bold and colourful pictures, which will have your pre-schooler chanting along.
Most of our copies of Julia's books are signed, but if you want to be 100 % sure that the title you are ordering is signed, do get in touch by email or phone (01903 812062) to check, before placing your secure online order. On occasions where a book is unsigned, we will include a free signed bookplate, which can be attached to the book later.