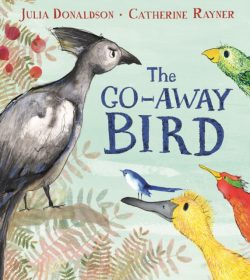 Go Away Bird – paperback
Author:
Julia Donaldson
Illustrator:
Catherine Rayner
Format:
pb
ISBN:
9781509843572
Now out in paperback!
'The Go-Away bird sat up in her nest,with her fine grey wings and her fine grey crest.'
One by one, the other birds fly into her tree, wanting to talk or to play, but the Go-Away bird just shakes her head and sends them all away. But then the dangerous Get-You bird comes along, and she soon realizes that she might need some friends after all ….
A charming story about the power of friendship and togetherness, with absolutely beautiful water-colour illustrations by acclaimed artist Catherine Rayner,which perfectly complement Julia Donaldson's cleverly rhyming words.
Most of our copies of Julia's books are signed, but if you want to be 100 % sure that the title you are ordering is signed, do get in touch by email or phone (01903 812062) to check, before placing your secure online order. On occasions where a book is unsigned, we will include a free signed bookplate, which can be attached to the book later.