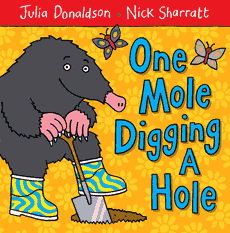 One Mole Digging a Hole
Author:
Julia Donaldson
Illustrator:
Nick Sharratt
Format:
pb
ISBN:
9780230706477
All the animals are busy lending a hand in the garden in this lively numbers book! The parrots are pulling up carrots, the bears are picking pears and a swarm of bees are pruning the trees with their miniature shears. Julia Donaldson's whimsical rhymes and Nick Sharratt's hilarious illustrations make this book a delight to share out loud. With plenty to giggle at on every page, counting – or gardening – has never been so much fun!
Most of our copies of Julia's books are signed, but if you want to be 100 % sure that the title you are ordering is signed, do get in touch by email or phone (01903 812062) to check, before placing your secure online order. On occasions where a book is unsigned, we will include a free signed bookplate, which can be attached to the book later.