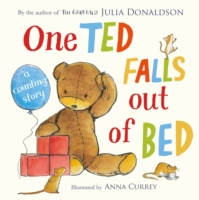 One Ted Falls Out of Bed board book
Author:
Julia Donaldson
Illustrator:
Anna Currey
Format:
board book
ISBN:
9781447209959
When Ted falls out of bed, three tearaway mice whisk him off on a breathtaking adventure. They zoom around in fast cars, go on a balloon ride and climb a building-block mountain. It's all very exciting, but will Ted ever get back to his bed? Perfect toddler entertainment.
Most of our copies of Julia's books are signed, but if you want to be 100 % sure that the title you are ordering is signed, do get in touch by email or phone (01903 812062) to check, before placing your secure online order. On occasions where a book is unsigned, we will include a free signed bookplate, which can be attached to the book later.