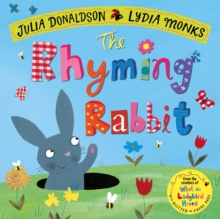 Rhyming Rabbit – paperback
Author:
Julia Donaldson
Illustrator:
Lydia Monks
Format:
pb
ISBN:
9781509862726
The Rhyming Rabbit loves to make up entertaining poems, inspired by everything he sees, but the other rabbits don't appreciate his talent for rhyme. Sad and lonely, the Rhyming Rabbit sets off one starry night all on his own – will he ever find someone to share his poems with? The Rhyming Rabbit is a clever rhyming adventure from the stellar picture book partnership of Julia Donaldson and Lydia Monks, creators of What the Ladybird Heard. With brilliant rhyming verse, bright and distinctive illustrations and glitter on every page, this story is a delight to read aloud.
Most of our copies of Julia's books are signed, but if you want to be 100 % sure that the title you are ordering is signed, do get in touch by email or phone (01903 812062) to check, before placing your secure online order. On occasions where a book is unsigned, we will include a free signed bookplate, which can be attached to the book later.