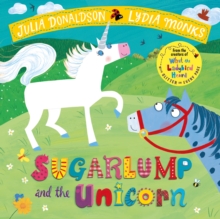 Sugarlump and the Unicorn – paperback
Author:
Julia Donaldson
Illustrator:
Lydia Monks
Format:
pb
ISBN:
9781509862665
When Sugarlump the rocking horse wishes to see the world, a magical unicorn with a silver horn and sparkling blue eyes turns him into a real horse. But after trotting around the farm, galloping around a racetrack and even dancing at the circus, Sugarlump learns to be careful what he wishes for and realises how much he misses the children he left behind. Luckily the unicorn has one more wish to grant …
Most of our copies of Julia's books are signed, but if you want to be 100 % sure that the title you are ordering is signed, do get in touch by email or phone (01903 812062) to check, before placing your secure online order. On occasions where a book is unsigned, we will include a free signed bookplate, which can be attached to the book later.