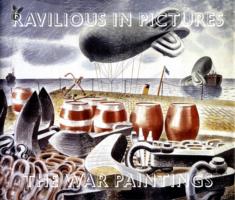 Ravilious in Pictures 2 The War Paintings
Author:
James Russell
Illustrator:
Eric Ravilious
Format:
hb
ISBN:
9780955277740
'Ravilious in Pictures 2 The War Paintings' collects together the paintings Eastbourne artist Eric Ravilious produced while he was appointed to the Admiralty of the Royal Marines, as an Official War Artist, from 1939 until his sad demise aged 39 while on active service in Iceland.
20 paintings are reproduced here, each accompanied by an informative background essay by James Russell. Perfectly capturing the sombre mood of war with his chalky, muted colours, Ravilious does not focus on the glory of war and military hardware, but rather on quiet, reflective moments, interiors and landscapes.