We are very fortunate to have the best-selling children's author Julia Donaldson living in Steyning! Julia Donaldson is the incredibly talented, prize-winning author of the world's best-loved picture books, and was the 2011-2013 Children's Laureate. Her picture books include the modern classic The Gruffalo, which has sold over 5 million copies worldwide. Julia's best known books are those illustrated by Axel Scheffler, and her books with Lydia Monks are also very popular. She has also worked with illustrators Nick Sharratt, David Roberts, Sara Ogilvie, Sharon King-Chai, and Catherine Rayner, amongst others, as well as producing many educational phonics-based books in the Oxford Reading Tree series.
Julia also writes fiction for older children, including the Princess Mirror-Belle series illustrated by Lydia Monks, and a young adult novel called Running on the Cracks, as well as poems, plays and songs – and her brilliant live shows are always in demand. Please see our events page to find out whether Julia is coming for a signing session or performing one of her fantastic live shows in the Steyning area.
We are delighted to be able to offer online ordering of SIGNED EDITIONS of Julia's books both via a link from Julia's website to ours, and directly from the 'Shop Online' area of this website. We keep signed copies of all Julia's most popular titles in stock, and can include a signed bookplate in cases where we are unable to get the title you want signed in time.
We have plenty of signed copies of all Julia's books in stock
** Julia's wonderful new picture book The Hospital Dog will be published on 1st October, and Julia has kindly offered to SIGN & NAME-DEDICATE all copies pre-ordered via our online store! Place your order now – add the name dedication in the 'Order Notes' box at checkout.**
Our latest signed titles by Julia Donaldson are The Teeny Weeny Genie, What the Ladybird Heard at the Seaside – both out in hardback at £12.99, and The Smeds and the Smoos out now in paperback at £6.99.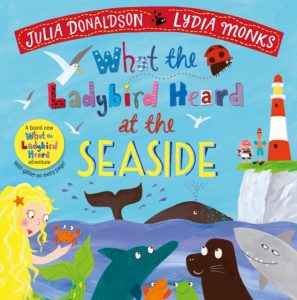 Recently out in paperback are 'Animalphabet' (£9.99) a hugely entertaining animal ABC guessing game with peep-through pages and amazing fold-out flaps, stunningly illustrated by Sharon King-Chai, and 'The Go-Away Bird' (£6.99), a gorgeous story about friendship, beautifully illustrated by Catherine Rayner.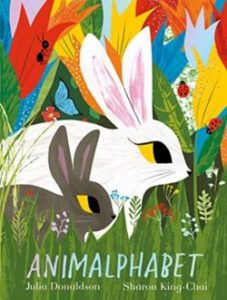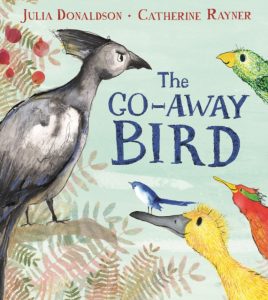 Julia very kindly takes time from her busy schedule to do occasional workshops at local (within a 20 mile radius of Steyning) schools. If you'd like your school to be put on the waiting list for a visit from Julia, get in touch by emailing info@steyningbookshop.co.uk to discuss whether your school meets the requirements.