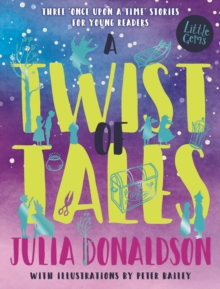 A Twist of Tales
Author:
Julia Donaldson
Illustrator:
Peter Bailey
Format:
pb
ISBN:
9781781125700
A collection of magical stories for readers making their first steps into independent reading, told in easy language and with full-colour illustrations throughout.
A king hides a terrible secret under his crown …A marvellous dream inspires an epic journey …A clever girl outwits the king.
Most of our copies of Julia's books are signed, but if you want to be 100 % sure that the title you are ordering is signed, do get in touch by email or phone (01903 812062) to check, before placing your secure online order. On occasions where a book is unsigned, we will include a free signed bookplate, which can be attached to the book later.