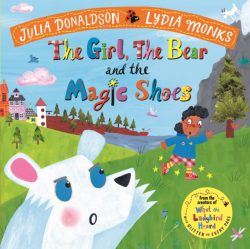 Girl, the Bear and the Magic Shoes – paperback
Author:
Julia Donaldson
Illustrator:
Lydia Monks
Format:
pb
ISBN:
9781447275985
Newly released in paperback, Julia's delightfully glittery story with an unexpected ending!
When Josephine leaves the shoe shop after buying some new running shoes, she hears an unusual sound – Click-click! Click-click! A bear with a backpack is following her! Luckily for Josephine, her new shoes are anything but ordinary – these are magic shoes. But can they help her escape the bear when there's a mountain, a bog and even a lake in her way?
Most of our copies of Julia's books are signed, but if you want to be 100 % sure that the title you are ordering is signed, do get in touch by email or phone (01903 812062) to check, before placing your secure online order. On occasions where a book is unsigned, we will include a free signed bookplate, which can be attached to the book later.