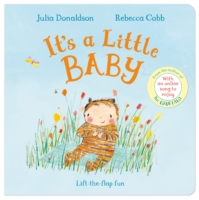 It's a Little Baby
Author:
Julia Donaldson
Illustrator:
Rebecca Cobb
Format:
board book
ISBN:
9781447251811
It's a Little Baby is a beautiful and engaging book, perfect for pre-schoolers, beautifully illustrated by Rebecca Cobb, who also illustrated Paper Dolls.
Five little babies are hiding in this book, doing all the things that babies do – waving, clapping, pointing and more. Featuring rhyming text which lends itself to joining in, with big flaps to lift and energetic actions throughout, this is a real treat and a perfect gift!
Also includes a link to a free downloadable song, written and recorded by Julia Donaldson.
Most of our copies of Julia's books are signed, but if you want to be 100 % sure that the title you are ordering is signed, do get in touch by email or phone (01903 812062) to check, before placing your secure online order. On occasions where a book is unsigned, we will include a free signed bookplate, which can be attached to the book later.