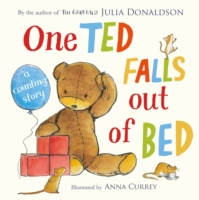 One Ted Falls Out of Bed
Author:
Julia Donaldson
Illustrator:
Anna Currey
Format:
pb
ISBN:
9781447266143
When Ted falls out of bed, three tearaway mice whisk him off on a breathtaking adventure. They zoom around in fast cars, go on a balloon ride and climb a building-block mountain. It's all very exciting, but will Ted ever get back to his bed? This book's counting theme is woven perfectly into a magical, rhythmic text with beautiful illustrations by Anna Currey.
Most of our copies of Julia's books are signed, but if you want to be 100 % sure that the title you are ordering is signed, do get in touch by email or phone (01903 812062) to check, before placing your secure online order. On occasions where a book is unsigned, we will include a free signed bookplate, which can be attached to the book later.