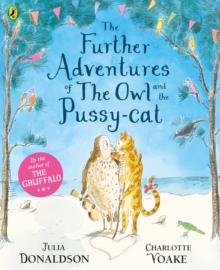 Further Adventures of the Owl and the Pussycat – paperback
Author:
Julia Donaldson
Illustrator:
Charlotte Voake
Format:
pb
ISBN:
9780141378275
Julia Donaldson revisits Edward Lear's favourite rhyme in this wonderful new story set in a nonsensical land full of adventure. When their beautiful golden ring is stolen, the Owl and the Pussy-cat must travel far from the safety of the Bong-tree glade as their search for the thief leads them across the Sea, to the Chankly Bore and beyond…Full of enchanting lyricism this new rhyme, beautifully illustrated by Charlotte Voake, promises to be as important and successful as the original.
Most of our copies of Julia's books are signed, but if you want to be 100 % sure that the title you are ordering is signed, do get in touch by email or phone (01903 812062) to check, before placing your secure online order. On occasions where a book is unsigned, we will include a free signed bookplate, which can be attached to the book later.