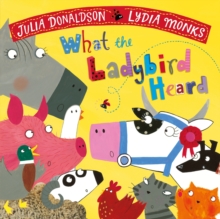 What the Ladybird Heard – paperback
Author:
Julia Donaldson
Illustrator:
Lydia Monks
Format:
pb
ISBN:
9781509862566
The ladybird said never a word. But the ladybird saw, and the ladybird heard . .
Hefty Hugh and Lanky Len are two crafty robbers with a cunning plan to steal the farmer's fine prize cow. But little do they know that the tiniest, quietest creature of all has overhead their plot, and she has a plan of her own.
What the Ladybird Heard is a fantastically funny story from the stellar picture book partnership of Julia Donaldson and Lydia Monks.
Most of our copies of Julia's books are signed, but if you want to be 100 % sure that the title you are ordering is signed, do get in touch by email or phone (01903 812062) to check, before placing your secure online order. On occasions where a book is unsigned, we will include a free signed bookplate, which can be attached to the book later.