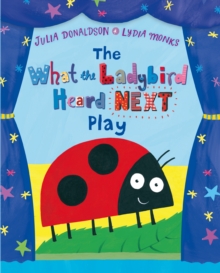 What the Ladybird Heard Next Play
Author:
Julia Donaldson
Illustrator:
Lydia Monks
Format:
pb
ISBN:
9781509824786
Julia has adapted her second Ladybird adventure into a fun and accessible play script that children will love performing at school or at home. The 'What the Ladybird Heard Next Play' has been designed with rehearsals and performance in mind, with a clear layout and colour-coding for each character, perfect for helping children to follow their lines and join the cast! The book also contains a hints and tips section, which includes helpful advice on staging the play and ideas for props. There are also ideas for themed 'What the Ladybird Heard Next' activities, like making ladybird biscuits for your audience, and making a swarm of finger-puppet bees.
Most of our copies of Julia's books are signed, but if you want to be 100 % sure that the title you are ordering is signed, do get in touch by email or phone (01903 812062) to check, before placing your secure online order. On occasions where a book is unsigned, we will include a free signed bookplate, which can be attached to the book later.