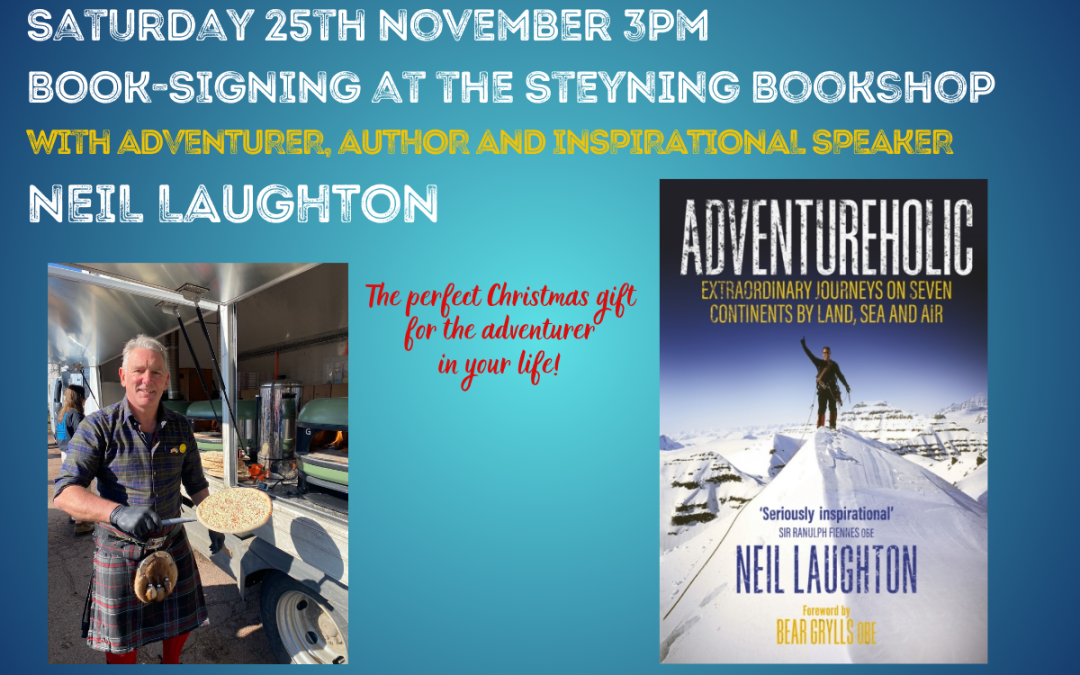 On Saturday 25th November at 3pm we are thrilled that explorer, entrepreneur, author and self-confessed 'adventureholic' Neil Laughton will be stopping by the shop to sign copies of his new book Adventureholic – Extraordinary journeys on seven continents by land, sea and air. 
Please ORDER YOUR COPY of Adventureholic via this link and state in ORDER NOTES whether you'll be coming to meet Neil & get the book signed in person, OR add the name / message for dedication if you'd prefer the book to be posted.
Neil Laughton is a successful business entrepreneur, multiple Guinness World Record breaking adventurer and a former Royal Marine Commando, helicopter pilot and Special Forces Officer. Neil has a passion for travel, sport and adventure. He has organised and led more than 50 expeditions on 7 continents – by land, sea and air. Adventureholic tells the stories of Neil's most unforgettable and daring adventures yet. From summiting Mount Everest with Bear Grylls and playing cricket at the Geographic South Pole to piloting the world's first road-legal flying car on a 10,000km journey across the Sahara Desert to Timbuktu, running with bulls, and train-surfing in Myanmar, Neil really has seen and done it all.
Join Neil on a roller-coaster ride around the world, a perfect present for the (would-be?)  adventurer in your life!
The book is a beautifully produced hardback published by WhiteFox Publishing at £20.