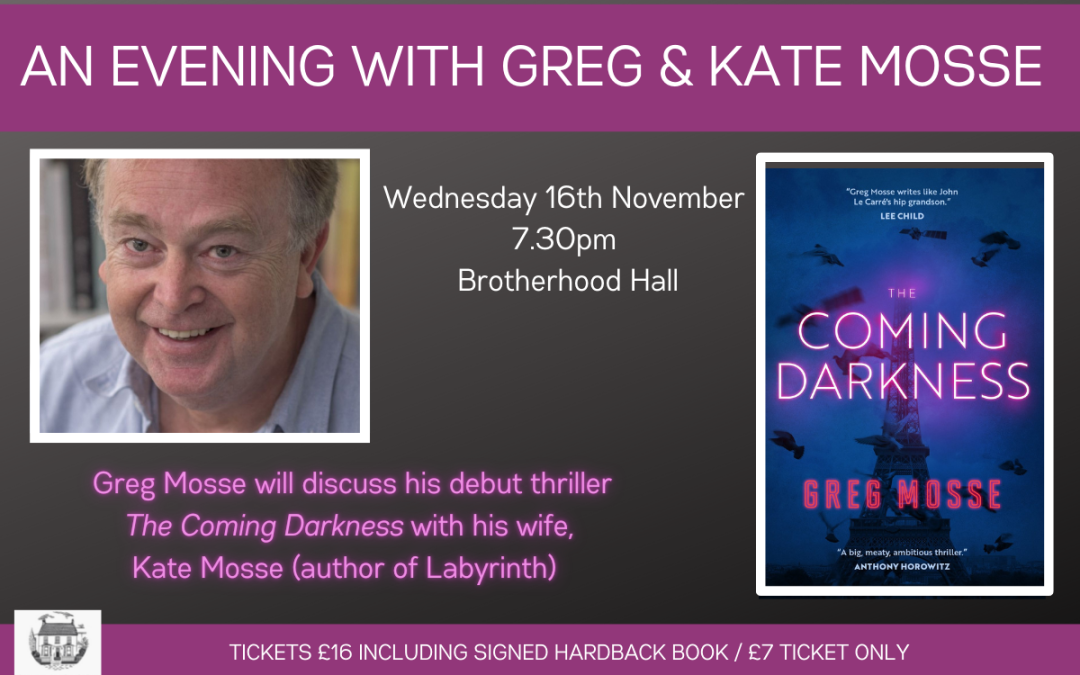 Join us for an evening with GREG MOSSE as he discusses his debut novel The Coming Darkness – in conversation with his wife, best-selling novelist KATE MOSSE. The Coming Darkness is a gripping eco-thriller, set in an eerily prescient, not-too-distant future, which is already being hailed as a successor to Terry Hayes' I Am Pilgrim.
About the Evening
We are thrilled that Kate Mosse, best-selling author of Labyrinth, Citadel, City of Tears and many more, will be interviewing Greg. There will also be an audience Q & A and both Greg and Kate will sign books at the end. Tickets are £16.00 (admits one, includes signed hardback copy of The Coming Darkness) or £7 (admits one, no book – but ticket can be redeemed against a purchase of The Coming Darkness on the night). Copies of Kate Mosse's recent books will also be on sale. This will be a 'book-group' style event where members of the public are warmly invited to join our 3 book groups, who will have read the book, but we promise – no spoilers!
About Greg Mosse
Greg Mosse is a creative writing tutor, playwright, and the founder and leader of the Criterion New Writing script development programme at the Criterion Theatre, London. Since 2015, he has written and produced 25 plays and musicals, often in collaboration. He created the Southbank Centre Creative Writing School – an open access program of evening classes, delivering MA level workshops, and also wrote and validated the MA Creative Writing that he taught for four years for the University of Sussex at West Dean College. The Coming Darkness is his first published novel.
About The Coming Darkness
Paris, 2037. Global warming and pandemics have torn through the fabric of society. Alexandre Lamarque of the French external security service has lost faith in his job – hunting eco-terrorists, and is ready to give up. But he is drawn back in by an ominous sequence of events: a theft from a Norwegian genetics lab; a string of gory child murders; his mother's illness; a chaotic coup in a breakaway North African republic… He rapidly finds himself in a heart-thumping race against chaos and destruction, the one man with the ability to see through to the deranged intelligence that is plunging the world headlong into ..the coming darkness.