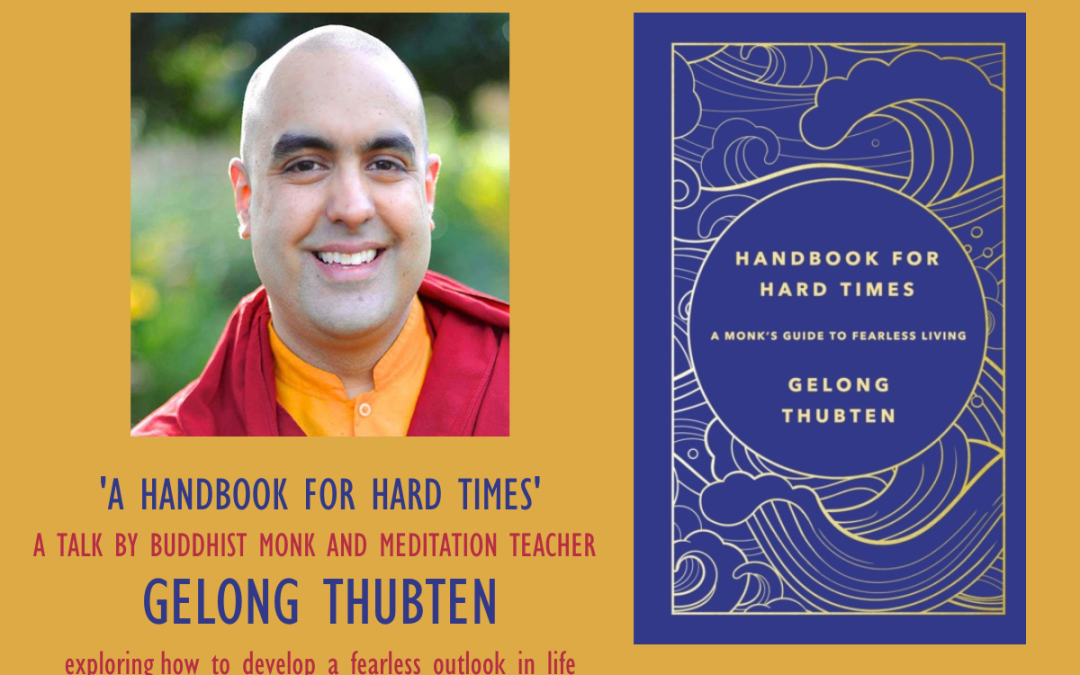 APOLOGIES – EVENT HAS BEEN POSTPONED TO THE NEW DATE OF TUESDAY 17th OCTOBER!
We are delighted to present an evening with Gelong Thubten, a Buddhist monk and one of the UK's most influential meditation teachers, in which he'll explore how we can use meditation and mindfulness to provide new perspectives on life's challenges.
Gelong Thubten trained at a Tibetan Buddhist monastery in Scotland for over 30 years, and is now a highly sought-after teacher of meditation and mindfulness techniques. He works with Silicon Valley tech giants, Hollywood stars, the NHS and schoolchildren, and in universities, hospitals and prisons. He was asked by Marvel to train Benedict Cumberbatch and Tilda Swinton in meditation on the set of their film Doctor Strange. He has even delivered keynote speeches for the United Nations, and collaborated with Ruby Wax for her book and theatre show 'How to be Human'.
Thubten's new book – A Handbook for Hard Times: A Monk' s Guide to Fearless Living – explains how we can use meditation to lead a fearless life; one that is rich in compassion, forgiveness, acceptance and courage. Thubten believes that hard times present an opportunity to discover our true strength. By 'leaning in ' to our suffering we can re-frame our thinking and arrive at a deeper level of wisdom. Thubten's previous book, A Monk's Guide to Happiness, was a Sunday TImes bestseller.
Our evening with Gelong will take place at the Steyning Methodist Church and will include a talk by Gelong and a guided meditation. Those who purchase the book + ticket option will receive their books upon entry. Additional copies of both Thubten's books will be on sale on the night and Gelong will be happy to sign your books.
Doors open at 7pm and the talk will begin at 7.30pm.
Click HERE to book or stop by the shop!