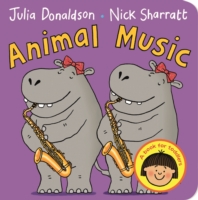 Animal Music – board book
Author:
Julia Donaldson
Illustrator:
Nick Sharratt
Format:
board book
ISBN:
9781447276791
There's harmony in the air when the animals get together to make music and put on a concert with a difference! Koala's playing his flute, Badger's bashing away on the drums and Squirrel's strumming on the guitar. Even the smallest toddler will enjoy the wonderfully silly animal antics in this book, so join in and sing and dance along – you've never been to a gig like it! Trademark Julia Donaldson rhymes and rhythms accompanied by Nick Sharratt's mischievous and funny illustrations make this bright and playful book a sure winner. Now available as a sturdy board book — perfect for younger readers.
Most of our copies of Julia's books are signed, but if you want to be 100 % sure that the title you are ordering is signed, do get in touch by email or phone (01903 812062) to check, before placing your secure online order. On occasions where a book is unsigned, we will include a free signed bookplate, which can be attached to the book later.
You may also be interested in…