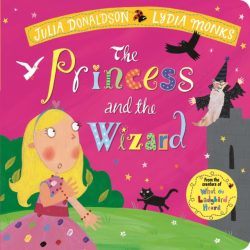 Princess and the Wizard Board Book
Author:
Julia Donaldson
Illustrator:
Lydia Monks
Format:
board book
ISBN:
9781509894154
New chunky board book with colourful cover!
"The princess may try seven times to escape, by changing her colour and changing her shape…."
But each time Princess Eliza changes – into a blue fish, a yellow chick, a red fox or a black cat – the wicked wizard finds her and sets her another horrible task. Will this plucky princess be able to outwit him and escape back to the palace in time to cut her birthday cake?
Most of our copies of Julia's books are signed, but if you want to be 100 % sure that the title you are ordering is signed, do get in touch by email or phone (01903 812062) to check, before placing your secure online order. On occasions where a book is unsigned, we will include a free signed bookplate, which can be attached to the book later.