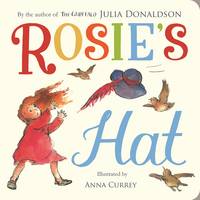 Rosie's Hat re-issue
Author:
Julia Donaldson
Illustrator:
Anna Currey
Format:
pb
ISBN:
9781447266129
Rosie's Hat isn't just any old hat. When a gust of wind sweeps it off her head, it goes off on a whole hatful of adventures! It becomes a toy for a dog, a hiding-place for a mouse, a frisbee for some children and even a nest for some birds. Surely poor Rosie will never find her hat again …or will she? Reissued with a fresh new cover look
Most of our copies of Julia's books are signed, but if you want to be 100 % sure that the title you are ordering is signed, do get in touch by email or phone (01903 812062) to check, before placing your secure online order. On occasions where a book is unsigned, we will include a free signed bookplate, which can be attached to the book later.